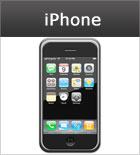 iPhone is an advanced mobile phone technology which enables Internet connection and multimedia playback. It is a kind of smartphone which is developed by Apple Inc. It has all the functions of standard mobile phones plus the ability to video calling, which people have been dreaming of for many years. Two iPhone users can do video calling. iPhone has similar functions to standard mobile phones. iPhone is a very thin device but is wider and longer than many comparable devices. There are many functions for iPhone, such as iBooks, iMovie, video phone, Mail, Bluetooth, Safari, iPod, iTunes Store, Search, etc. The iPhone combines mobile phone capabilities with a wireless Internet device, and an iPod into one product. What's more, the iPhone can not run on all OS systems but only on one special version of Mac OS X operating system.
The iPhone extensively synchronizes data and hardware between its individual components. For example, if you use it to listen to the music when a call is received, the music volume will automatically turns down. When the call finished, the volume will get back to the original. This is one advantage for Smartphone (Artificial Intelligence). Besides, the distinctive touchscreen for the iPhone can control all the device's functions. The iPhone supports for HD video recording and editing and has a 5-Megapixel camera with LED flash. The iPhone usually lasts for 8 hours for talk or for video playback and 24 hours for music mode. The built iTunes store enables you to download your desired music, video, movies, TV shows and other entertainment formats. You can directly download them onto your iPhone and enjoy them whenever you like. At the same time, you can transfer your media files from computer to your iPhone through iTunes and vice versa.
Other networking features for iPhone include automatic detection of WiFi networks, EDGE support for high-speed data transfer and Bluetooth connectivity. The price of iPhone is not very expensive and is affordable for most people and one day it will replace the standard mobile phone as the mainstream mobile device.